Flexcetera
Acoustic Folk



Flexcetera plays an acoustic blend of 60's and 70's folk, with
America, Bob Dylan, The Byrds and Beatles well represented.
Brian McMahon plays guitar, Rob Rozyki plays guitar,
Steve Peluso plays bass Sarah Purol sings and does percussion.
Occasionally we have Fernando (not pictured here)
play addional percussion. We do about an hour's worth of music.





Flexcetera at Summer of Love 2003

FLEXCETERA Song Snippets:

Lets Get Together


Knocking on Heaven's Door


FLEXCETERA SOL 2003 SET LIST

Sheíll Be There
Georgy Girl (Sarah Tambourine)
[Enter Steve and Rob] Ventura Highway (Flexcetera)
Knocking on Heavenís Door (Flexcetera)
Here Comes the Sun (Flexcetera)
Sundown * (Flexcetera)
Sad Little Girl (Flexcetera)
8 Miles High (no Sarah)
You Ainít Going Nowhere (Sarah Tambourine)
Dear Prudence (no Sarah)
Summer Breeze (Flexcetera)
Colours (Flexcetera)
Horse With No Name (Flexcetera)

{possible entry for a drummer]
Lets Get Together (Flexcetera)
Turn Turn Turn (Flexcetera)
Evil Ways (Sarah shaker only)
Sunday May Never Be The Same (Flexcetera)
California Dreaming (Flexcetera/SG)
A Little Bit Me * (Flexcetera/SG)
Mrs. Robinson * (Flexcetera)

* - Special Guests, Steve only

FlexSarah Web Page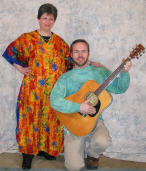 FlexSarah (publicity shot)
Home | FlexSarah | Events | My Bands | Sound Bites